Gear Gallery
 From the dive-bar, to the studio.
"

Life is trying things to see if they work."
— Ray Bradbury
Contents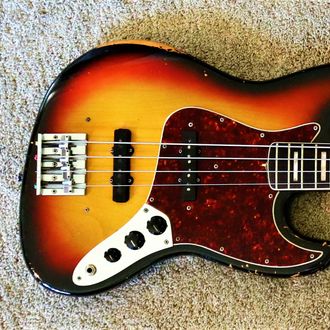 Page 1
1995 Marshall JTM45 RI
1975 Marshall Model #2045 Cabinet
Gibson Historic R8 Plaintop Les Paul- Standard
2019 Gibson SG Special P-90
Tube Screamer TS-9
1964 Fender Princeton Reverb
1974 Fender Jazz Bass
Danelectro Baby Sitar RI
Pork Pie Drums
Once Upon A Time...
Marshall 2045 "Suitcase" Cabinet
Marshall 2x12 Cabinet
1975 marshall model 2045 2x12 g12M-25 speakers
This Marshall Model 2045 2x12 from the JMP era is in stock trim and pretty good condition.  Marshall sold these as a "Lead, Bass, Organ' cabinet. Guys nicknamed these the "suitcase" cabinet due to it's shallow 9" depth.  The first JCM 800 model 1936 cabs were just this suitcase style cabinet re-badged.  Then in the early 80's the JCM's went to the more common, deep 1936 cab.  This cabinet has G12M-25 T1221 black-back speakers.  These are date stamped Nov '75.  They also have a '3' stamped onto the back side of the cone which could possibly identify them as Pulsonic cones. More likely though, they are some sort of 'transitional' Mueller cones.  This cabinet, combined with the JTM45 (or a 1959SLP with a PB100 Power Brake) is replacing my Princeton Reverb as the 'go-to' amp cab in the studio.